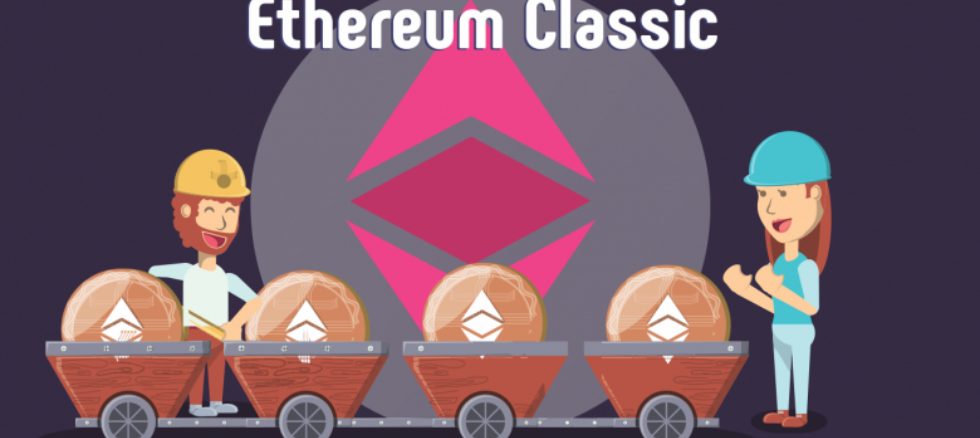 It is known that in recent months, miners have reduced the power growth rate of Bitcoin and Ethereum mining farms. The digital gold is still holding on, because the main part of the miners are large companies, but with the brainchild of Vitalik Buterin all is bad. Maybe it is a chance for the Ethereum Classic?
The transition to PoS was supposed to cause a boom, but the vague timeline and unclear policy of the developers led investors to withdraw money from a dubious asset. But if holders of Ethereum still have a chance to take back their investments, miners, however, found themselves in a predicament. It's all about the fact that, with the drop rate, yield has also dropped and electricity prices are rising across the planet. Video cards are getting cheaper, and the prospects are lacking.
Over the past few weeks, cryptocurrencies have risen quite nicely. Bitcoin is now at the level of $23,000, and Ethereum – $1600. Opinions are divided on the reasons for what is happening, but many experts are inclined to believe that there is no fundamental reason for the growth of digital assets, and therefore the main driving force may be speculators and Whales. If the first are trying to get rich quick by swaying the market, the big fish are playing for the long haul. 
In the first half of the year, holders of large fortunes in Bitcoin increased their savings, but more recently their wallets have begun to deplete. It should be understood that there is no exact data on this since such manipulations take place behind closed doors.
But back to our miners. Many miners are afraid that after the transition of Ethereum to PoS they will have to sell their video cards at low prices. The market will collapse, and even at the current rather high prices of the cryptocurrency, it will be quite difficult to quickly recoup investments.
Ethereum Classic surpassed Ethereum in profitability  
Many are hoping for an alternative token that can replace Ethereum and receive the giant batch of miners. Until recently, there were several options, but none of them were capable of equaling Ethereum in terms of yield.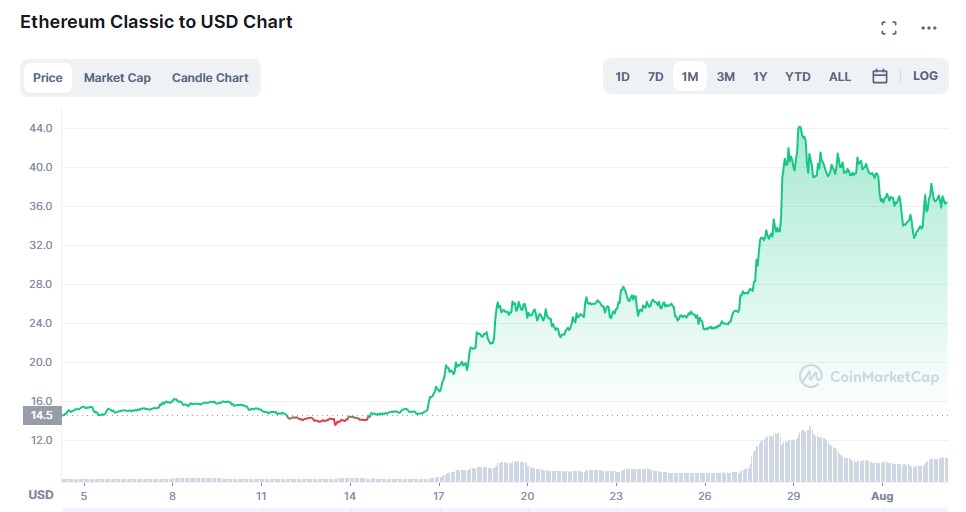 But by all appearances, we have a worthy competitor. Pay attention to the chart above. As you can see the price of Ethereum Classic increased 3 times in the last two weeks of July. Experts say that if the dynamics of this cryptocurrency won't change, it will soon be much more profitable to mine ETC than Ethereum. Except this isn't the case, because it has already happened.
Now pay attention to the table below. This is the data of the earnings calculator for the GeForce RTX 3070 Ti graphics card. It is not necessary to cling to the numbers, because there is a recommended price for this graphics chip at the time of the launch, but in this case, the other thing is important. 
According to calculations, it takes 340 days to return the investment with Ethereum, while mining Ethereum Classic it will happen in 337 days. In this case, these three days are not as important as the fact that for the first time in many years there is a cryptocurrency whose profitability allows not to worry about the transition of Ethereum to PoS. There will be no rapid transfer of farms to this altcoin, but that isn't necessary today. For a long time, miners thought of network merging and staking as a doomsday. It looks like there's no need to worry anymore.
Experts believe that more and more altcoins will become more expensive as the timing of Ethereum's transition to PoS approaches. Obviously, Ethereum Classic won't be left alone. Not only that, but there is an opinion that in the future there won't be just some single altcoin that will accept all miners.
Here it is worth turning to the numbers. Today, Ethereum is worth $1,621 and Ethereum Classic is worth $36. In order to take at least 20% of all miners, the alternative cryptocurrency must rise in price by at least 10 times. It is extremely difficult to calculate accurately, but it isn't even a matter of calculations, because there are millions of video cards mining Ethereum today. Even a small percentage can significantly reduce the profitability of any other asset. 
Conclusion
It is highly doubtful that Ethereum Classic will increase in price as the hashrate increases, but let's leave such thoughts at least until October, because around that time PoS is expected to arrive.