Briefly about currency and wallet
As it should be, let's first talk in two words about what ETC (Ethereum Classic) is. It didn't appear that long ago, but considering its predecessor, Ethereum Classic at the time of its "birth" didn't need any more advertising. In fact, it is a hard fork of the already popular Ethereum network, which took place in 2016. You can learn more about the tokens and the network itself in the article What is Ethereum Classic.
To work with any tokens or virtual currencies, you will need a digital ETC wallet. The main thing is to find the right trusted service. There are several different types of cryptocurrency wallets (hardware, software or online services). Perhaps the easiest and most convenient option would be to use ETC Web Wallet, presented on our website. Hardware wallets are recommended for storing significant amounts of money, but first you will need to buy such a device. Its price is $80-250.
Is it worth mining Ethereum Classic?
Often asking the question whether it is worth mining this or that crypto, people mean profitability. And in this question, it is important to consider many factors:
Availability of equipment.
Initial capital – the possibility of buying and assembling a farm or special equipment (ICO).
The cost of electricity.
Complexity of the network (mining).
The cost of tokens when exchanging into fiat money.
In addition, it is worth taking into account other less important, but still affecting the final result, factors:
Exchange and withdrawal fees.
Currency volatility.
Mining in a group or solo.
To understand what equipment to buy, how to mine ETCs (solo or in a group), what is the volatility of currency, what affects it and so on, you need to study the issue in detail. It is simply impossible to describe everything in one article, but we will consider the main points.
Leaving all of the above outlined and immediately answering the question of whether or not to mine ETCs, at the time of writing this article – it is worth it. And the profits are not bad at all. The equipment pays for itself within 3-7 months (depending on the capacity and cost of electricity in your country).
However, you can estimate the potential profitability of mining Ethereum classic yourself using online-calculators. One of the most popular is WhatToMine. Go to the site, choose Ethereum Classic altcoin and enter:
The cumulative hash rate of riga video cards;
power consumption;
power cost;
the commission of the pool.
The calculator will give you the information about the estimated amount of coins to be earned during a day, week and month and will calculate the profitability of mining ETC at the moment. However, you should also take into account the possible fluctuations of the coin's price in the future.
What you need to start mining
Mining Ethereum Classic does not differ from other cryptocurrencies. That is, in fact, all the settings are almost the same, with the difference that you set up mining ETC on a different pool, other tokens and a different wallet. That is, you just specify the appropriate site and wallet addresses. If you have not encountered such questions before, let's look at everything in order. To mine ETC tokens you will need:
Access to a power grid.
Equipment – here you have a choice:

Build a farm on video cards – the advantage is that you can sell the cards you bought and recoup most of what you spent. You can do this at any time.
Buy ready-made equipment – the advantage is that initially it will be designed for efficient mining ETC, but with the increasing complexity of the network such a gadget will lose its merits. And after the device will work out its resource, you will not be able to sell it.Fortunately, at the moment, you don't need specialized stations or superpowered assemblies to mine Ethereum Classic. A single farm on a few video cards is enough.

Software – so-called miners.
A suitable pool.
That's all you need to start mining Ethereum classic. Now let's take a closer look at some points.
Pools for mining Ethereum classic
At the moment there are quite a few groups (called pools) where you can do mining Ethereum classic. Choosing the best pool is quite difficult, especially since they are very similar to each other. The differences, if any, are very small. Still, let's look at what pools you can use:
| | |
| --- | --- |
| Name | Quick info |
| Ethermine | This is one of the first pools that took the brunt when other services were no longer able to cope because of the high load. It is by far the most popular. However, not everything is so smooth. There are quite ambiguous comments from users on the Internet. In defense, it can be noted that it is one of the most reliable groups. This is the reason why it has a wide popularity. |
| Nanopool | Nanopool is a new project that has quite big ambitions. Despite the fact that the service is new, yet within a short period of its existence, it has broken all records of popularity and surpassed the above-mentioned competitor. It offers quite low commissions and favorable terms of cooperation. However, there is another side to the coin – in the case of any problems, do not rely on the technical support site. You will have to solve all the issues yourself. |
| P2pool | One of the most reliable pools that can compete only with such groups as Eligius and BitPenny. The group supports the possibility of both group mining and mining Ethereum classic in solo mode. In addition, it is worth noting the benefits of this service. Due to the level of decentralization and other factors, users can get more than 100% of the expected income. |
| ETC 2miners | A professional pool for experienced miners. Supports mining a wide list of cryptocurrencies. The group is quite new (opened in 2017), but already has a fairly wide popularity. In many respects, it got such a spread due to the low commissions – 1% (for the use of the service). |
| SuprNova | This group is known in the circles of Bitcoin fans, in particular its fork Lightcoin. However, the pool has recently included support for Ethereum and all of its forks. In order to work with the site you will need to register. But, in return you get a user-friendly interface, high level of security and quality service. |
| MinerGate | A pretty good pool that has a wide list of languages to translate the interface. This means that it is geared towards users from different countries. MinerGate is a handy pool that has been around for a long time and has managed to gain the trust of users. |
This is a list of the main pools for group mining. It is worth noting that some of them allow solo mining Ethereum classic. Using your computer (or farm) you create new blocks. For this, the network pays remuneration in the form of Ether Classic tokens. But first you need to set up your mining hardware and software.
Choosing and setting up video cards
We will talk about mining Ethereum classic on video cards, because it is the most profitable option. And today there are two competing manufacturers: Nvidia and AMD.
In this regard, there are divided and miners. There were two camps – green and red. To make the right choice and mining Ethereum classic was profitable, you should consider such parameters:
Power consumption.
Output power (hashes).
Cost.
The better the ratio (less consumption and more power output), the more profitable the video card. Well, the lower the price, the faster you pay back the costs.
The most profitable graphics cards are:
AMD Rx 470 8 gb – 28-30 Mh/s
AMD Rx 480 8gb – 30-31 Mh/s
AMD Rx 570 8 gb – 28-30 Mh/s
AMD Rx 580 8 gb – 30-31 Mh/s
AMD Rx 5700 XT 8gb – 55 Mh/s
Nvidia RTX 3080 – up to 90 Mh/s
Nvidia RTX 3070 – 64 Mh/s
Nvidia RTX 3060 – around 50 Mh/s
These speeds of mining ETC on Dagger-Hashimoto algorithm in AMD Rx video cards can be achieved by changing the VRAM timings, by flashing the video card bios, as well as by proper overclocking and downvolting.
Before proceeding to the software setup, you will need to download and install drivers for mining ETC on AMD video cards or any current ones for nVidia video cards. In addition to drivers, there are other ways to optimize mining ETC and increase the performance of video adapters. The most popular are programs like MSI Afterburner. This is a program for overclocking your graphics card and controlling the turnover of the coolers according to its temperature.
Note that after closing this program, all settings for overclocking and fan speeds are reset.
Tuning the Miner
Once you have configured the system and installed the necessary drivers, you should download the miner.
If you are going to mine on Windows, PhoenixMiner is the best solution. Its features and graphical interface are similar to the formerly popular Claymore, but it has certain advantages:
The developer is charged 0.6%, not 2% like Claymore.
The hash rate is 1-2% higher.
Faster DAG-file creation (set of data loaded into GPU memory when mining utility starts).
Secure SSL connection is supported.
The Ethereum Classic (ETC) network switched to a modified version of Ethash called ETCHash. If you want to mine ETC, download PhoenixMiner 5.3b or higher, otherwise the cards will get rejected.
Greens can mine Ethereum Classic with T-Rex 0.19.1 or Gminer 2.3, and for reds lolMiner 1.16 will do. But the only universal program remains Phoenix.
In the folder containing the program, you have to create or edit a file with the extension .bat according to this example:
PhoenixMiner.exe -pool etc-eu1.nanopool.org:19999 -wal 0xf4bb374444716ef33e47c98091ccd2d74a21e07835 -worker 1080ETC -epsw x -mode 1 -Rmode 1 -log 0 -mport 0 -etha 0 -retrydelay 1 -ftime 55 -tt 73 -tstop 89 -coin etc pause
pool – the parameter is responsible for the pool address and port,
wal – we specify a wallet,
worker – we come up with a name for the ring in the statistics,
tt – we specify the desired temperature of the video card under load,
coin – tell the phoenix miner that we are mining Ethereum Classic.
Double click on the BAT file to start the miner. Wait about 20 seconds and press "S" to check the hashing speed. You will see something like this on your screen: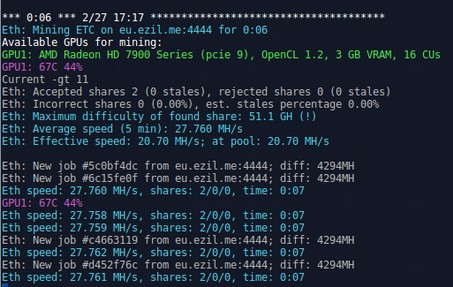 Once your miner is set up, you can just watch your equipment bring you revenue in the form of ETCs.
The above applies to Windows. Setting up mining Ethereum classic on Linux is different. We will talk about it in another article.