The history of the coin began in August 2016, when individuals banded together to maintain and continue Ethereum on the original blockchain. It is based on fundamental principles such as freedom and non-interference by third parties, as well as decentralization.
In fact, Ethereum Classic (ETC) is the closest to the original blockchain that Vitalik Buterin came up with. But Ethereum itself is its clone.
Ethereum Classic is a public decentralized platform that supports smart contracts. The basis of this project is its own digital currency.
The environment ensures the free operation of services and applications, as well as allows users to manage digital assets without banks and other financial institutions acting as intermediaries.
Characteristic features of the project include:
Full decentralization

Stability (information in the registry has been stored since 2015)

Invariability (no changes from the outside).
Speaking about ETH and ETC, we can't but compare them to find the key differences.
Ethereum Classic has a limit, whereas in the case of Ethereum there is no limit.

Ethereum has a "difficulty bomb", whereas in the case of its opponent it is not provided.

Transition to the PoS algorithm for ETC is not planned, as it is considered to be less secure and less resistant to centralization.
In general, despite the fact that ETC is not that popular and has a smaller capitalization, it was able to gather around itself a sufficient number of adherents. It is a token of a blockchain platform that is also paid as a reward for mining.
The blockchain project helps improve the way values and assets are exchanged in the world of digital money. One of the developers' goals is to introduce the Internet of Things, which involves interaction between objects in a way that minimizes human involvement.
As of 04.11.2022, the following characteristics can be highlighted:
value $25.06

capitalization $3.4 billions

supply volume 137.7 millions ETC (65%)

146.55 TH/s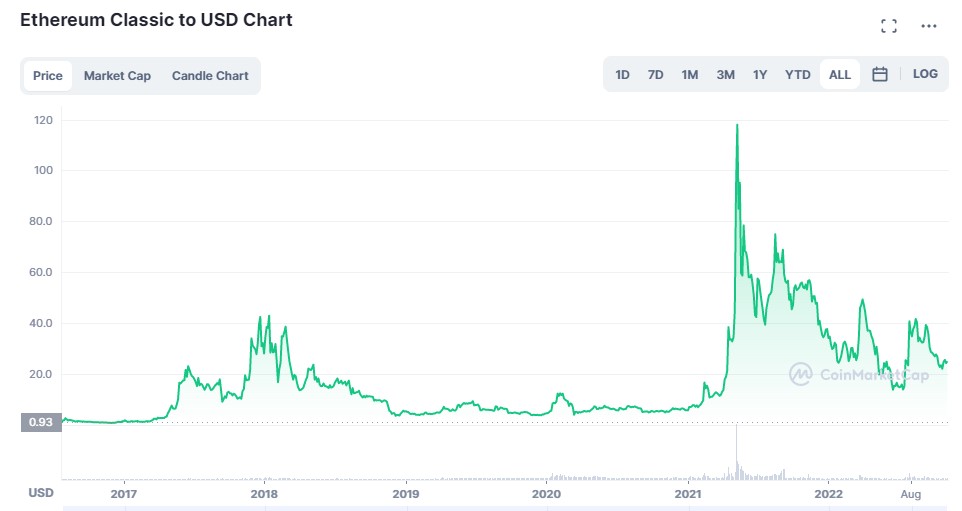 As mentioned above, ETC is a closer version of Vitalik Buterin's original idea and adheres to the principles of stability and decentralization. Experts note the high liquidity of the altcoin.
Providing, usage and mining of Ethereum classic
Despite the fact that Classic has no backing in the form of fiat money or any assets, the developers have taken care to maintain its stability. For example, in the form of setting up limited issuance, forks, as well as partnerships with exchanges and large companies.
The main functions, as well as directions for its use, include:
participating in the launch of smart contracts and applications

conduction of transactions

tool for getting rewards for mining

way to pay for goods or replenish the balance in online services

exchange transactions
The main ways of obtaining ETCs include:
mining

purchase

transfer
Mining is done through farms or ASIC miners. Both solo mining and pool mining are available if the user chooses. A separate incentive to get ETC is Ethereum's transition to the PoS algorithm, which occurred on 9/15/2022.
Top 5 pools for ETC mining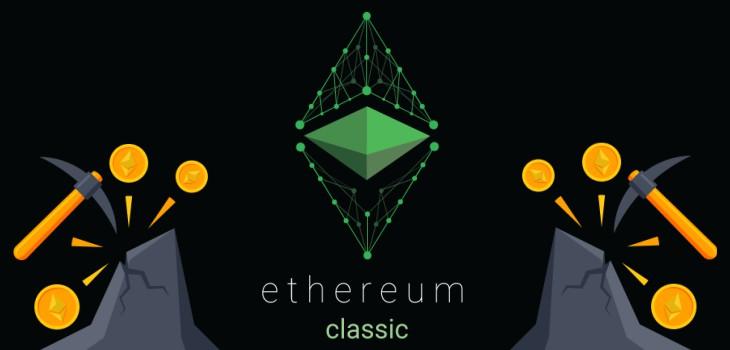 Ethermine

2miners

Hiveon

F2pool

Poolin
Ethermine is the largest pool for ETH mining, supports a total of 7 coins and was opened in 2016. According to the average data, about 75 blocks are added per hour. It runs on four servers, and the software is released for Windows and Linux and supports Nvidia and AMD graphics cards. As of 04/11/2022, the hashrate is 26.5 TH/s and the commission is 1% PPLNS.
2miners is a multicurrency pool that supports over 18 coins as well as different mining algorithms. The project is open source, the servers are located on different continents. Free notifications are available via email and Telegram. As of 04/11/2022, hashrate is 17.6 TH/s, the commission is 1% PPLNS.
Hiveon is a stable leader in mining not only ETC, but also ETH. The main feature of the pool is the absence of commissions. Servers for ETC mining are located in Russia, Asia and Europe. There are 3 coins available in the pool. As of 04/11/2022, the hashrate is 15.2 TH/s, 0% PPS+ commission.
F2pool is one of the first pools started in the world. It opened in 2013. Leads not only in ETC mining, but also BTC and LTC. Supports more than 20 coins. As of 04/11/2022, hashrate is 27.7 TH/s, commission 3% PPS.
Poolin is a tech pool with support for 10 coins. It offers comfortable features and tools to work with. Opened in 2017. As of 04/11/2022, the hashrate is 8.0 TH/s, 3% PPS+ commission.
ETC mining is available on 84 pools.