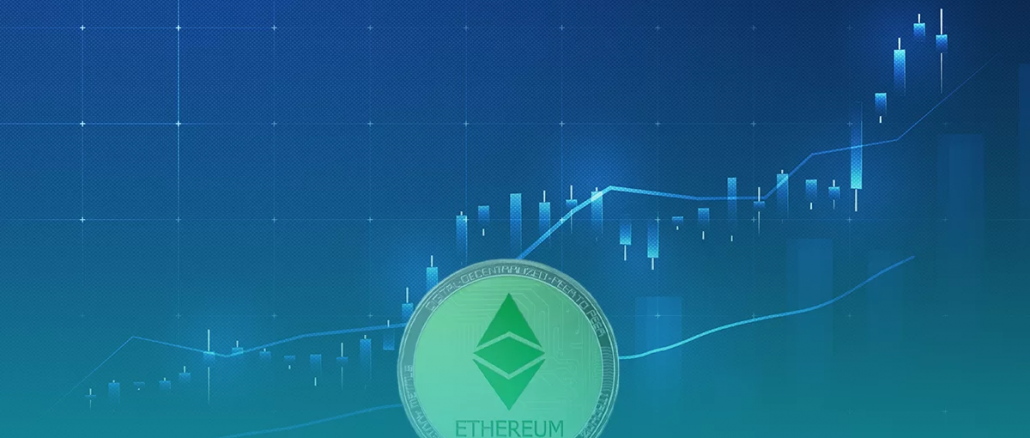 When experts make long-term predictions about the price of Bitcoin, and in our case Ethereum Classic (ETC), they primarily rely on past experience. Alas, cryptocurrencies are quite young, so it isn't always possible to find analogies, but there are several factors that allow us to draw more accurate conclusions. First of all, these are economic indicators.
Global economy
Since the global economy is closely tied to the stability of the U.S. dollar, any exchange rate fluctuations can be calculated. For example, America is in a difficult situation today. The debt of $30 trillion is having a negative impact on the economy, and the failure to stop inflation is causing stock indexes to plummet. 
Investors are trying to retain at least part of their investments, and as a result, money is being withdrawn from the technology sector and poured into companies that produce food and other products in demand. And that is not all, because there are also charts and market trends, when people cling to the numbers, which is commonly called resistance, after which the value of assets rises or falls sharply.
Bitcoin Halving
When it comes to Bitcoin, there is a fundamental indicator on the basis of which one can judge sharp exchange rate fluctuations. We are talking about halving.
It should be noted that in 2020 there was a planned reduction in the number of coins per block. So, instead of 12.5 BTC, miners received only 6.25 BTC per block. Since the complexity of mining was constantly increasing, the sharp decrease in the profitability of mining should have led to an increase in the value of the cryptocurrency. 
That's what happened in 2021, and today Bitcoin is trading more than twice as high as it did in 2020. Experts write that the rate can also be predicted on the basis of an increase in the hashrate. For example, the current value of the first cryptocurrency already includes halving and hashrate growth, and as a result, farmers may not make huge profits, but they can pay off the equipment and get into plus.
Ethereum Classic prospects
Many people know that before Ethereum switched to staking, Ethereum Classic was the main contender for the place of the main cryptocurrency for mining on video cards. And here is a good time to pay attention to the hashrate of this cryptocurrency.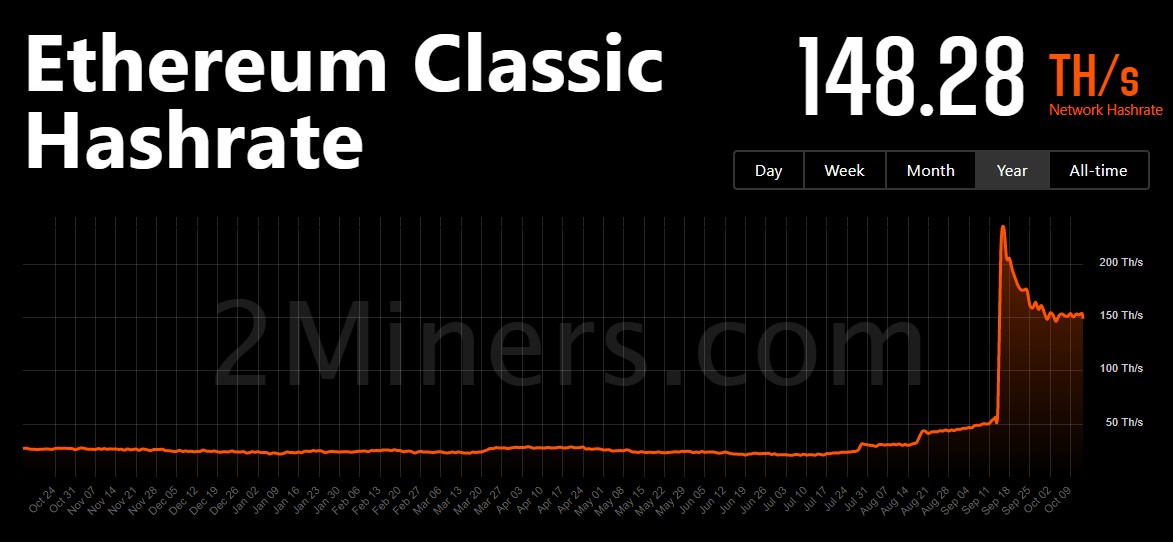 As you can see, the indicator increased 3-fold over the month, and several days in a row it reached a 6-fold increase. Keep in mind that in the summer the complexity was constantly increasing, so by the end of August the indicator was already 2 times higher than normal. At that time, miners were not yet alarmed, and the profitability didn't go into minus. But today mining Ethereum Classic (as well as any cryptocurrency on video cards) is unprofitable because you won't even pay back your power outlet.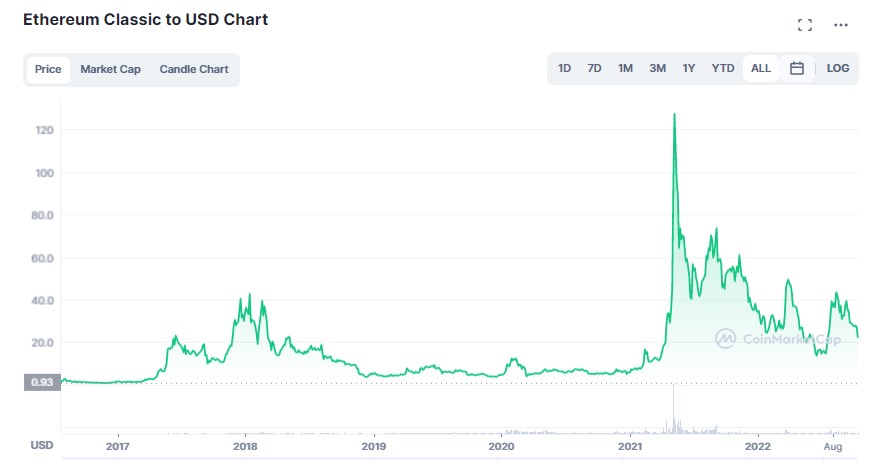 There is a very interesting situation: miners continue to persist, while the price is frozen in place. According to experts, Ethereum Classic will soon move to rapid growth. At the moment, the difference between hashrate and profitability doesn't correspond to the norm, and to go back to the indicators of August, the cryptocurrency must rise in price to 70 dollars. 
There is an opinion that so far, the miners won't get anything, which means they will dig into minus for a long time. In theory, it will be possible to get a plus after overcoming the $50 mark, but this is if the hashrate of 150 TH/s is maintained, and it is also possible that the complexity of mining will rise or fall.
Conclusion
Since Ethereum Classic rate is firmly tied to Bitcoin, the experts suggest looking exactly in the direction of the first cryptocurrency. And this is where the uncertainty awaits. There are both negative and positive implications. Well, optimists say that with the onset of winter digital gold will begin to grow. 
Stock indexes are already at the bottom, and Bitcoin is trading above $19,000, which is the minimum, below which it cannot retreat. If the optimists are to be believed, we are in for a bullish pre-New Year's rally. You remember how Bitcoin rose sharply last year, don't you? 
It is worth remembering that the economies of developed countries are currently in decline. No one knows if ordinary people will want to invest in cryptocurrencies, or if they will prefer to invest their money in real values.